The Mobiles Committee was established in order to provide guidance to families (parents and children) and help the school to promote the good use of mobile phones.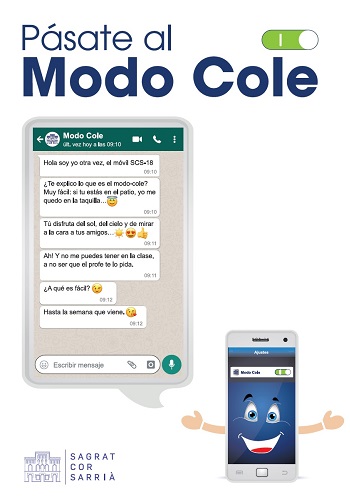 The Committee aims:
To prevent the use of mobile phones at early ages of development, due to the potential harm these devices can do to the children and their peers.
To develop a programme that provides information about the problems related to using mobile phones and other devices.
To provide guidelines and guidance for parents and teachers that enable us to accompany our children and students in the good use of these devices.
Activities plan:
The expert and psychologist Marc Masip gave:
2 lectures to parents.
1 lecture to teachers.
32 workshops for children from the first to fourth years of secondary education.
1 communication campaign in Secondary school: "Passa't al modo cole" [Switch to School Mode]," involving a series of tips and a contest in which students had to write what they would tell their best friend about how to use their mobile phone in a positive way.
We aim to continue making progress on the subject in each academic year. Call us if you want to join the Committee!