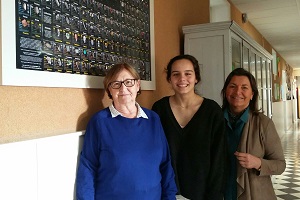 Virgina Artigot, 2nd year high school student at the Sagrat Cor Sarrià school, selected by Scholarships Europe as one of the best 30 pre-university students among the 15,000 students presented in 5,000 centers.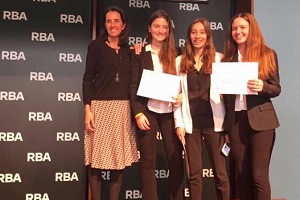 Higher Secondary School's students win the 3rd Prize of the Jr.Achievement competition.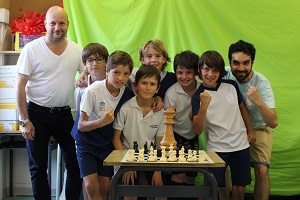 The 4th primary students of the Sagrat Cor Sarrià achieved a fourth place in the "XXIV" Intercolar Chess Championship for teams. "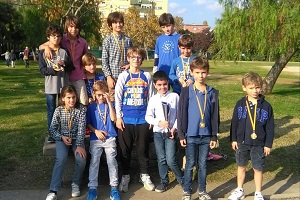 Second place in the Chess Teaching Competitions.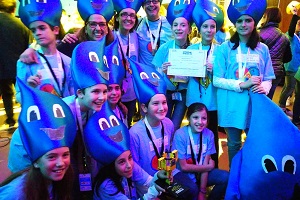 The 5th and 6th #scsmartdrops team won the First Lego League promise.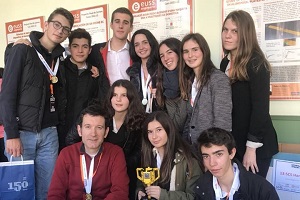 The Secondary School team #scsharmonics won the 2nd prize at the First Lego League scientific project.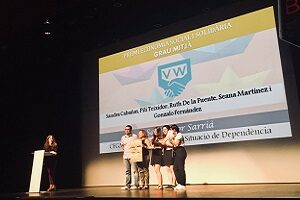 Sandra Cabañas, Pili Teixidor, Rut de la Fuente, Seana Martínez and Gonzalo Fernández, students of Care for Dependent People Intermediate Vocational Training Programme, won the Social and Solidarity Economy prize.
SPORTS AWARDS SEASON 2017/2018
FOOTBALL
| | |
| --- | --- |
| CATEGORY | AWARD |
| BENJAMÍ B | U-League Championship runner-up |
| | First ranked at the semaphore of values |
| PRE-ALEVÍ A | Champion School League |
| | Champion of Barcelona |
| PRE-ALEVÍ B | U-League Championship runner-up |
| ALEVÍ A | Champion School League |
| | Catalan school champion |
| | Champion of Barcelona |
| PRE-INFANTIL | Champion School League |
| | Champion of Barcelona |
| INFANTIL | U-League Championship runner-up |
| | First ranked at the semaphore of values |
| | Runner-up of Barcelona |
| JUVENIL A | Champion School League |
| | Champion of Barcelona |
| JUVENIL B | U-League Championship runner-up |
BASKETBALL
| | |
| --- | --- |
| CATEGORY | AWARD |
| INFANTIL FEMENÍ | CEEB Cup Champion |
| | Catalan school champion |
| INFANTIL MASCULÍ FEDERAT | League Champion |
| SUB 21 FEDERAT | League runner-up |
VOLLEYBALL
| | |
| --- | --- |
| CATEGORY | AWARD |
| ALEVÍ | CEEB Cup Champion |
| | Fourth placed in the Catalunya Catalunya Championship |
| | Prize for the best team in values at the Catalunya Catalunya Championship |
| PRE-INFANTIL | U-League Championship runner-up |
| CADET | Runner up CEEB Cup |
| JUVENIL | Champion School League |
| | Semifinalist CEEB Cup |
| | Runner-up of Barcelona |
FEDERATED ARTISTIC GYMNASIA
| | |
| --- | --- |
| PHASE | AWARD |
| 1º FASE | 2nd place for teams for prebenjamins and benjamins |
| | 1st place: Nora Galán (benjamí category) |
| | 1st place parallel modes: Martina Babler (benjamí category) |
| | 2nd place parallel modes: Melissa Siegel (infantil category) |
| 2º FASE | 1st place for teams for prebenjamins |
| | 2nd place for teams for benjamins |
| | 3rd place individual: Olivia Cano (prebenjamí category) |
| | 1st place individual: Marina Busquets (benjamí category) |
| | 2nd place parallel modes: Olivia Cano (prebenjamí category) |
| | 3rd place parallel modes: Inés Benejam (prebenjamí category) |
| | 1st place parallel modes: Martina Babler (benjamí category) |
| 3º FASE | 2nd place for equipment for prebenjamins |
| | 1st place for teams for benjamins |
| | 3rd place individual: Daphne Delrue (prebenjamí category) |
| | 1st place: Marina Busquets (benjamí category) |
| FINAL BARCELONA | 3rd place for teams for prebenjamins |
| | 2nd place for teams for benjamins |
| | 1st individual place: Marina Busquets (benjamí category) |
| | 3rd individual place: Nora Galán (benjamí category) |
| | 3rd place parallel modes: Inés Benejam (prebenjamí category) |
| | 1st place parallel modes: Martina Babler (benjamí category) |
| FINAL CATALUNYA | 2nd individual place: Marina Busquets (benjamí) |