ACCREDITED TO STUDENTS THAT STARTS 2ND OR 3TR COURSE OF SECONDARY EDUCATION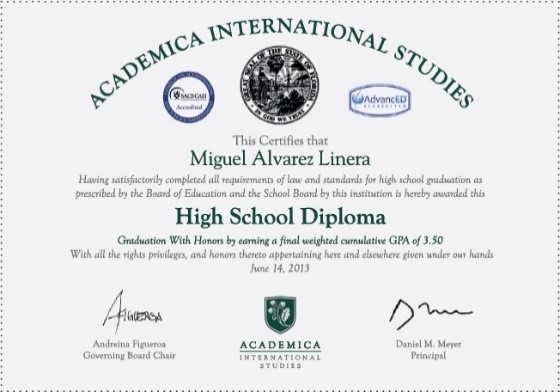 The school offers students the opportunity to take the Dual Baccalaureate or Diploma to enhance their learning of English and open up to other cultures and ways of learning. With this objective in mind, we have had an agreement in place since the 2013-2014 academic year with "Academica Corporation", one of the leading educational institutions in the United States. This enables students enrolling to simultaneously to take the dual qualification of the Spanish Baccalaureate – in face-to-face learning – and the American High School certificate – by distance learning.
The programme can be started in the second or third year of secondary school, and is completed after obtaining the 6 credits required in the United States which account for 25% of the American High School certificate curriculum. The remaining 75% is validated by passing the credits in the Spanish Baccalaureate.
The three main objectives of the "Dual Baccalaureate Diploma" programme are based on:
Linguistic immersion, in a study and work environment.
Technological Immersion, 100% Online. Command of digital learning technologies: platforms, tutors, live sessions, etc.
Personal Immersion, in the student's time management, effort, responsibility, organisation, autonomy and maturity at the level of study and planning of work.
The subjects to be taken, starting in the second year of secondary school, are as follows:
2nd year of secondary school: 1 subject – English
3rd year of secondary school: 2 subjects – English & Life Management Skills
4th year of secondary school: 2 subjects – US History & optional subject
1st year of high school: 1 subject – US Government / Economics
The academic year is divided into two semesters:
September / October – January/February
January/February – May/June